Instant Impact's Definitive List Of Halloween Must-Dos
Instant Impact's Definitive List Of Halloween Must-Dos
28 October, 2014
Whether you are a professional or a student Halloween is the night of the year where it is universally acceptable to act like you are still at university, maybe even school.  If you're in London you will know that there is a painfully good selection of Halloween parties to attend and picking which themed night to celebrate at is possibly the worst multiple choice of the year.  For that reason we decided it would be fun to look at some less agonising Halloween decisions and run you through the top Halloween activities you should definitely be getting on with this spooky period!
Make Halloween Themed Cocktails/Potions 
There are loads of cool Halloween cocktail recipes floating around on the web and most of them are incredibly easy!  Spooky cocktails are the perfect touch to any pre night out drinks or party.  Why not try making a 'Vampires Kiss'; Just throw raspberry vodka, Chambord raspberry liquor and cranberry juice into a shaker, give it a good shake and strain into a Martini glass for a blood curdling party beverage!
Dress Up Your Dog/Cat/Other Animal 
Because clearly they love it...and  it would be mean to leave them out of the fun.
Carve  A Pumpkin
A Halloween no brainer!  Regardless of whether your finished pumpkin looks like fine art or something out of a horror film, candle lit pumpkins create the perfect scary ambience!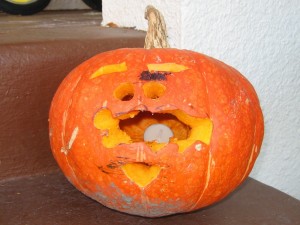 Make Gory Themed Party Food
Halloween is probably the only time of the year it's acceptable for a 22 year old professional to make jelly filled with eyeballs or sliced off finger sandwiches. Make the most of this. Seriously.  We found loads of great idea's for scary party food on the BBC Food site! 
A personal favourite and slightly more sophisticated option is the pea and bacon chowder, aptly named 'Witches' Brew'!
Watch Scary Films
Sleepy Hollow, The Exorcist, Paranormal Activity, Trick r Treat, Bram Stocker's Dracula and Van Helsing are just a few perfect movies to cuddle down to or sleep of that inevitable All Hallows Day hangover with!
Dress Up
The most important of them all!  Whether your trying to look terrifyingly attractive or just plane hideous if you cop out on the fancy dress you might as well just cancel Halloween all together.
HAPPY HALLOWEEN from the Instant Impact team!
————–
Instant Impact are the UK's leading graduate recruitment agency, for full access to all our paid internships and graduate jobs click here.