INSIGHTS
Job Seeker Resource Centre
Job Titles Explained: Account Manager
27 September, 2017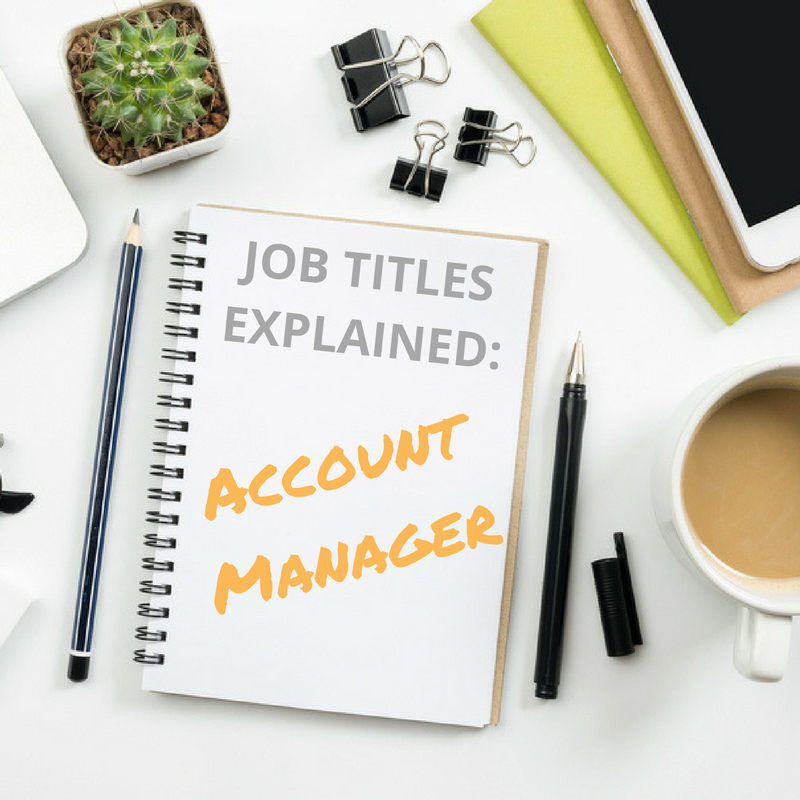 ---
Do you know your Buyers from your Brokers? Your Front-end Developers from your Business Developers? We know the crazy world of job titles can be hard to navigate, especially when you're taking your first steps into working life. That's why we've set out to make things a little clearer with our latest blog series. So sit back and relax as we help you get your head around some common but often confusing job titles! This time we're considering what it means to be an Account Manager.
In this sense, the Oxford English Dictionary defines an 'account' as "a contract to do work for a client". So when a company makes a deal to provide its services to a customer, an account is created between the two parties. To ensure the provided service meets expectations, the company needs to facilitate a dialogue with the client. This is where an Account Manager comes in…
An Account Manager...
Is someone who is responsible for managing relationships with particular clients or portfolios of clients.
May be responsible for one or more client accounts, depending on their size and importance to the company etc. – 'Key Accounts' refers to the smaller group of client accounts which contribute a large portion of sales for the company.
Typical responsibilities:
Responsibilities vary depending on industry, company size and the nature of the business. Nonetheless, some common responsibilities are shared by most Account Managers:
Manage and develop strong relationships with the company's account partners – act as the mediator between company and client, facilitating two-way communication.
Work to achieve company and client goals simultaneously.
Identify new sales opportunities by up-selling and cross-selling within existing accounts.
Generate sales and contribute towards the company's sales target.
Liaise with the Customer Service, Product Development and Sales teams, as well as any other staff working on the account, to communicate client expectations.
Establish budgets with the client and the company – forecasting and tracking important metrics.
Prepare reports on sales and account status.
Putting this role into context...
EXAMPLE 1: A technology company might hold accounts with the organisations using its technology service or programme. In this context, Account Managers can expect to act as key points of contact within their company, regularly liaising with clients to ensure their experience of the programme is wholly positive. They should also aim to maximise the value of their accounts, suggesting any upgrades or additional services that the client might be interested in. They may also be responsible for analysing delivery data and client feedback to suggest any internal improvements.
EXAMPLE 2: Within a creative agency context, Account Managers often manage full campaigns for their clients. For instance, within an Advertising agency, Account Managers can expect to oversee the entire campaign delivery process. Their work might start with an initial briefing where the client sets out their advertising needs, through to controlling expenditure for the duration of the campaign, and finally reporting on the results.
Core skills and experience:
An Account Manager should…
Be a 'people person' with great communication skills - a competent relationship builder.
Have an aptitude for sales and spotting business opportunities.
Be able to demonstrate creativity and logic in equal measures.
Be analytical and an accomplished problem-solver.
Have good organisation and project management ability.
Be confident discussing and presenting key stats and information.
Be able to demonstrate thorough knowledge of their own business as well as their clients' – A business-based degree is often useful.
Career path:
As we've seen, an Account Manager's responsibilities vary depending on company and industry, so there are a few different ways to build a career in account management. Experience in Sales or Customer Service provides a good grounding, as you'll be able to demonstrate great communication and relationship management skills.
Within account teams, the Account Managers are often supported by Account Coordinators and Account Executives, so working in these more junior positions can be a great way to get your foot in the door and learn the ropes.
As you develop your account management career, you can usually expect to take on a greater number of accounts or begin to work with larger, more important clients. It's likely you'll become responsible for a team of people and have more input into the strategic direction of the company's business development efforts.
Alternative job titles and similar roles:
Although they may have different titles and sit within slightly different departments, jobs can often involve many of the same responsibilities. Anyone setting out on a job search should be aware that cross-over exists between roles, so you should always read job descriptions carefully and conduct your own research into specific positions. To give you some idea of the variety that exists, here are some jobs for which the responsibilities are often fairly similar to those of an Account Manager…
Client Relations Manager
Sales Manager
Account Supervisor
Business Development Manager
Customer Success Manager
---
If you like what you see and think Account Management could be a good career option for you, be sure to check out our latest vacancies. Alternatively, if you're hiring for an Account Management role, drop us a line and we'll be in touch to discuss how we can help!
---
---
BACKK TO JOB SEEKER RESOURCE CENTRE
---