INSIGHTS
Job Seeker Resource Centre
Job Titles Explained: Business Development Executive
19 October, 2017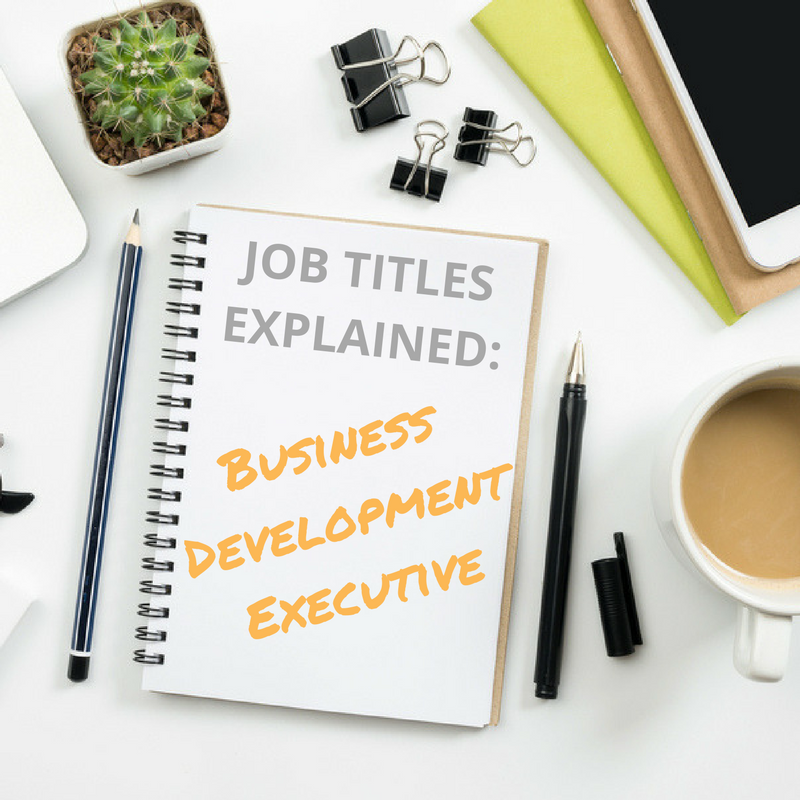 ---
Do you know your Buyers from your Brokers? Your Front-end Developers from your Business Developers? We know the crazy world of job titles can be hard to navigate, especially when you're taking your first steps into working life. That's why we've set out to make things a little clearer with our latest blog series. So sit back and relax as we help you get your head around some common but often confusing job titles! Today's blog post is all about 'biz dev' a.k.a. Business Development!
More specifically, what it means to be a Business Development Executive – A role that's fairly common in the companies we recruit for, but equally as ambiguous!
A Business Development Executive...
Works to create long-term value for a business from customers, markets and relationships.
Focuses on growing the business – they look into potential growth opportunities, then support and monitor the implementation of these opportunities.
Typical responsibilities:
Identify and qualify new sales leads – using networks and online research.
Follow up on any sales opportunities, communicating relevant information clearly.
Form and maintain strong relationships with new and existing partners using telephone, email and online contact.
Become an expert on the company's products and be able to pitch them effectively to current and potential customers.
Work to weekly and monthly sales targets and KPIs.
Represent the company at conferences, meetings and industry events.
Putting this role into perspective...
EXAMPLE: A digital marketing agency employs Business Development Executives to identify and reach out to relevant companies that may be interested in purchasing digital marketing services. The BDEs will research companies, analyse their current digital marketing efforts and foster relationships with them (probably using phone and email techniques), suggesting how the agency could help improve their digital efforts. They will then maintain good working relationships with clients, offering them add-ons and improvements where possible, always striving to add value and grow the business!
Core skills and experience:
A Business Development Executive should…
Be an expert on the company's products and be able to pitch them effectively in any situation.
Be able to demonstrate good knowledge of the industry and markets in which the company operates.
Have an aptitude for sales and spotting business opportunities.
Be a 'people person' with great communication skills – a competent relationship builder.
Possess good knowledge of (or be willing to learn about) customer relationship management (CRM) tools such as Salesforce.
Be comfortable in a target-driven environment and work to overcome any barriers that would prevent targets being met.
Be able to demonstrate good time management and planning skills.
Career path:
As mentioned, to work in Business Development, it's important that you're a top-notch communicator. Previous experience in a Sales or Customer Service role is a great way to demonstrate that you have this skill, as well as a customer-centric attitude. A business-related degree can also help as it shows you understand business objectives and environments.
In terms of progression, it's common for a BDE to be promoted to BDM (Business Development Manager). Moving into this role is likely to involve taking on more responsibility for the planning and development of the company's growth strategy. You can also expect to take charge of assessing the business development team's performance and become responsible for more junior members of staff.
Alternative job titles and similar roles:
Although they may have different titles and sit within slightly different departments, jobs can often involve many of the same responsibilities. Anyone setting out on a job search should be aware that cross-over exists between roles, so you should always read job descriptions carefully and conduct your own research into specific positions to find out if they'd be suited to you. To give you some idea of the variety that exists, here are some job titles for which the responsibilities are often fairly similar to those of a Business Development Executive…
Business Development Representative
Client Relations Executive
Sales Executive/Representative
Strategic Account Manager/Executive
---
If you like what you see and think Business Development could be a good career option for you, be sure to check out our latest vacancies in BD. Alternatively, if you're hiring for a BD role, drop us a line and we'll be in touch to discuss how we can help!
---
---
BACKK TO JOB SEEKER RESOURCE CENTRE
---