What Does A Customer Success Executive Do?
22 November, 2017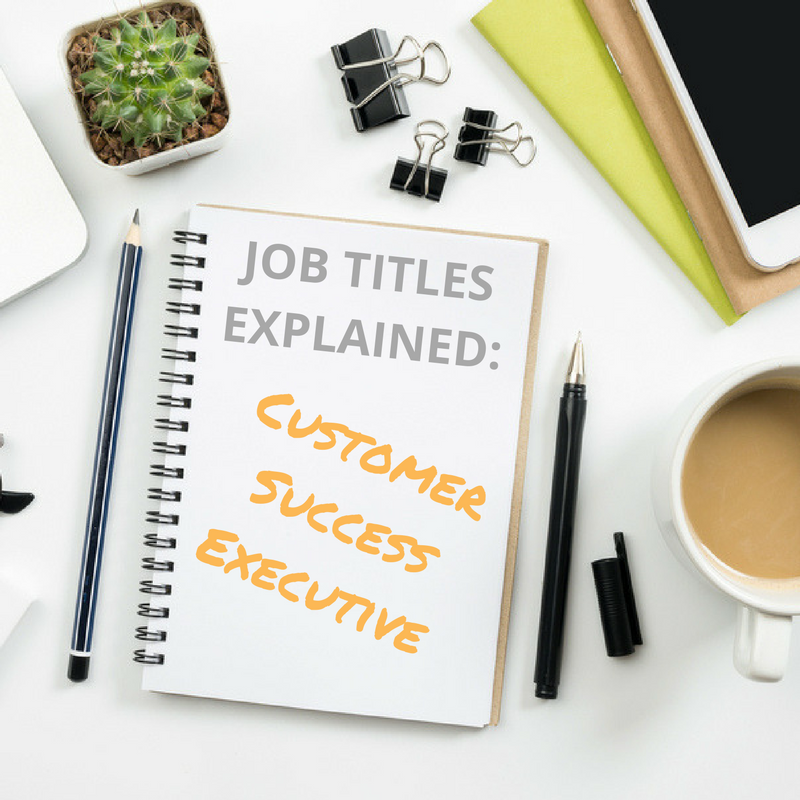 ---
Do you know your Buyers from your Brokers? Your Front-end Developers from your Business Developers? We know the crazy world of job titles can be hard to navigate, especially when you're taking your first steps into working life. That's why we've set out to make things a little clearer with our latest blog series. So sit back and relax as we help you get your head around some common but often confusing job titles! This time we're taking a look at the relatively new but very exciting business area that is Customer Success!
Thanks to the proliferation of both business and consumer-facing technology companies, the significance of Customer Success teams is now widely recognised. So let's take a look at what being a Customer Success Executive is all about…
A Customer Success Executive…
Develops customer relationships that promote retention and loyalty, ultimately improving customer lifetime value and reducing churn.
Ensures all customers are successfully using the product or service they've purchased from the company.
Is often the first port of call for customers and is available to answer any in-bound questions.
Typical responsibilities:
Responsibilities vary depending on industry, company size and nature of business. Nonetheless, some common responsibilities are shared by most Customer Success Execs:
Provide technical support and ad-hoc training to customers who use the company's product, replying to inbound queries.
Ensure customers remain satisfied with the product by educating them about functional capabilities and possible upgrades.
Aid with the development and improvement of the product by gathering feedback to identify recurring issues and addressing these with the product manager.
Maintain excellent service standards, going above and beyond to ensure customer satisfaction and retention.
Putting this role into perspective…
EXAMPLE: A software company sells their SaaS (software as a service) product to other businesses. The company employs a Customer Success team, comprising Customer Success Execs and a Customer Success Manager, to maintain contact with their business customers.
Customer Success Execs have a direct effect on the bottom line of the company by ensuring all customers are making the most of the software and providing solutions to any problems they encounter. They reach out with news of software upgrades and new product features, providing any necessary training with the primary aim to optimise all customers' experience of the software, therefore increasing overall customer retention and minimising costs for the business.
Core skills and experience:
Thorough knowledge of (or eagerness to learn about) the company's products and their capabilities.
Technical aptitude and the ability to understand and explain complex concepts in simple terms.
Great interpersonal and relationship-building skills.
Customer service experience and a customer-centric attitude.
Knowledge of other languages is helpful if the company works internationally.
Some B2B sales experience is often beneficial if the role involves upselling.
Career path:
Customer Success is a really exciting business area which is still evolving so its difficult to define a 'typical' career path. However, most businesses with a Customer Success team will employ a Customer Success Manager and potentially a Head of Customer Success. This means there is potential to progress into these positions as you gain experience and become ready to take on more responsibility.
In terms of starting out in this role, Customer Success Execs can come from all sorts of backgrounds. The most important thing is that they're able to develop really strong, lasting relationships. This could be demonstrated through experience in various areas including Sales or Account Management but Customer Success is also a great option for engaged graduates with lots of extra-curricular experience.
Alternative job titles and similar roles:
Customer Experience Executive/Associate
Client Advocate
Customer Service Executive
Customer Operations Executive
Customer Solutions Executive
Partner Operations Associate
---
If you like what you see and think Customer Success could be a good career option for you, be sure to check out our latest vacancies in this area. Alternatively, if you're hiring for a Customer Success role, drop us a line and we'll be in touch to discuss how we can help!
---
---