Should You Do A Graduate Scheme?
26 September, 2017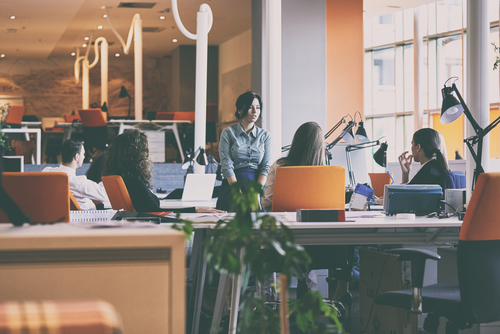 ---
There's no doubt that securing a place on a graduate scheme after university is a huge achievement and a fantastic way to get that all-important foothold on the career ladder.
The benefits are numerous and well-known: above-average starting salaries, great benefits and the chance to work for an internationally-renowned brand. Aldi is known for its top perks with graduate Area Managers earning a hefty £44,000 starting salary (rising to £73,450 after four years) and receiving a fully expensed Audi A4!
It's hard to beat the entry-level packages provided on big corporate schemes, which goes some way to explain why they're seen as a holy grail for university leavers. And yet, they aren't without their drawbacks, and an increasing number of grads are beginning to see the downsides: New research from Accenture Strategy found that only one in five university finalists are interested in joining a large company post-graduation.
So what's putting people off?
Fierce competition for places
For a start, anyone who's applied to a graduate scheme knows that with a well-known brand comes fierce competition for places and, because of this, application processes are rigorous…
Instant Impact spoke with Amy Andrews, a 2017 graduate from Newcastle University, who says the recruitment processes for big schemes are enough to put even the most eager candidates off:
"You can expect to clear your calendar and put uni work aside in order to complete video interviews and psychometric tests and, if you get to the next stage, you'll be attending assessment centres and face-to-face interviews across the country which significantly adds to the stress of final year".
Training & development opportunities
Despite these demanding processes, today's graduates frequently cite one major pull-factor which seems to make all the application hassle worthwhile: the great training opportunities large organisations have to offer.
Olivia Hosking, 22, will graduate with a degree in International Business from the University of Birmingham next year and is keen to apply for corporate schemes.
"The main reason I'll apply is because of the levels of training they offer young employees. You can usually expect a period of coaching before you properly start, and then on-the-job training. I feel this would equip you with really valuable skills so you could work to the best of your ability".
Indeed, many schemes do offer extensive, in-depth training opportunities for graduates. For example, trainees on PwC's programme get the chance to study towards a Chartered Accountant qualification as soon as they join the company.
However, it is important to tread cautiously before committing to what may seem like a fantastic deal. Graduates should be vigilant and conduct as much research as possible before signing a contract to ensure that they are aware of the commitments they are making.
Beware: The lock-in clause
Outsourcing firm Capita's graduate scheme came under fire recently for its unusual training structure and restrictive 'lock-in' clauses for grads, described as "a new low for graduate employers".
Capita, which provides services ranging from BBC licence fee collection to electronic tagging of offenders, advertises a programme involving an initial four months of unpaid training, upon completion of which candidates aren't necessarily guaranteed a permanent job.
Capita's Novus Programme is described on the company's website as: "an exciting opportunity for those with an IT or STEM degree to gain leading-edge industry-approved training and real-world experience working with Capita".  However, as careers blog Graduate Fog points out, Capita expects graduates to fund themselves throughout the initial four months' training in London or Manchester, where living costs can reach £1000 per month.
Graduate Fog argues that this format shows a clear disregard for fair access. It favours candidates from higher-income backgrounds who can afford to live without a salary.
The blog is also critical of the scheme's general structure; "rather than recruiting graduates and then training them as salaried employees, they appear to be training them as non-employees and then choosing whether to recruit them, presumably because it's cheaper".
Since the story broke, former Capita trainees have come forward to describe how the company also demands payments from grads who leave the graduate scheme before their two years of work.
Speaking to The Guardian, one trainee recounts how the 'lock-in' clause in their contract meant they were liable to pay £21,000 to cover training costs after quitting the Novus Programme.
Worryingly, this does not appear to be an isolated case. Former trainees on a scheme run by FDM Group have also been hit with charges of up to £20,000 after leaving.
One reddit user was offered a place on the FDM scheme and published a post voicing their concerns about the 'lock-in' clause before starting the programme. A current employee responded by presenting the company's pros and cons, concluding they would not have joined if given a second chance.
A spokeswoman from FDM told The Guardian that "trainees have 14 days from when they start training to trial the programme and leave with no fees charged".
What can we learn from the news coverage?
Are graduate schemes empowering or exploitative for new grads? Well schemes come in all shapes and sizes and need to be considered individually. Of course, some offer fantastic opportunities for the right candidates but one things for sure: graduates need to consider their options carefully - Don't dive head-first into a graduate scheme just because you've heard of the company or their products. Take your time to really understand what you're signing up for.
It's important to really think about what you want to get out of your first graduate position. Yes, receiving comprehensive training and a fat pay check is great but there are many other important dimensions to consider that will affect your overall job satisfaction. Some key things to think about could be your level of responsibility, opportunities for career progression and the company's culture and growth prospects.
Don't disregard start-ups & SMEs!
Accenture Strategy's research concluded that a whopping 71% of recent graduates consider themselves to be underemployed in their role and unable to fulfil their potential. Because of stats like this, it's becoming widely recognised that graduate roles within smaller companies and start-ups are a great alternative to the corporate graduate schemes - Within a smaller team your voice can really be heard and new graduates can expect to quickly put their skills to good use, gain responsibility early-on and progress fast.
More and more recruitment agencies now specialise in placing top graduates into smaller, fast-growth organisations where they can make a real impression. Instant Impact is just one example of a recruitment company that champions graduate roles in smaller organisations and start-ups.
---
Be sure to check out our jobs board for plenty of super cool graduate positions and internships in high-growth, innovative companies! Alternatively, if you're looking to hire talented graduates, drop us a line and we'll be in touch to discuss how we can help!
---
---