Which Job Sector Is For You?
Which Job Sector Is For You?
27 July, 2016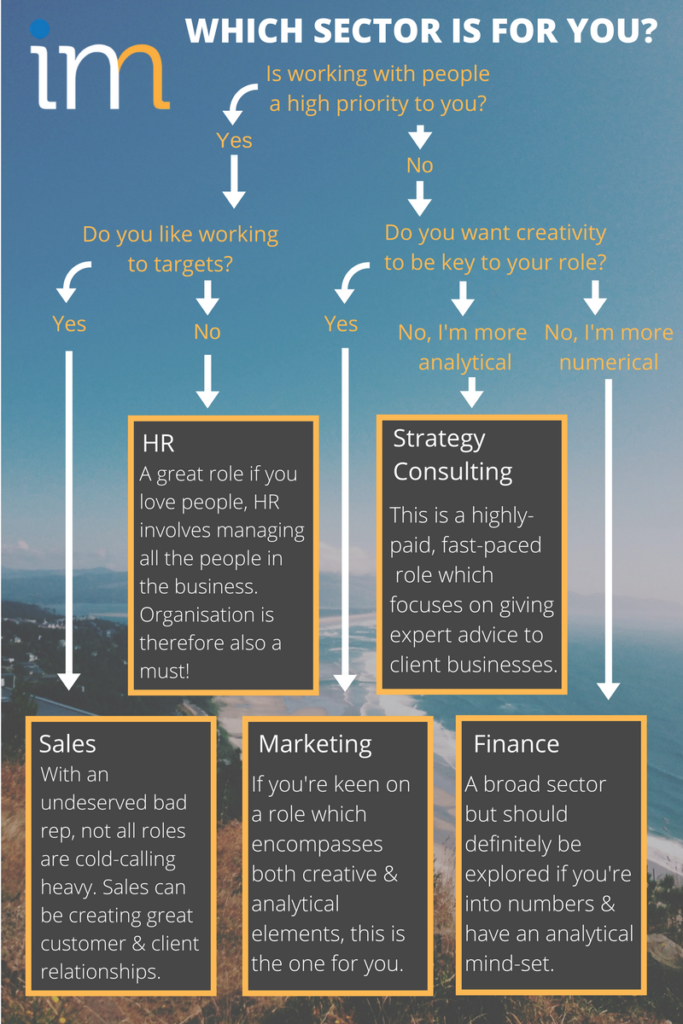 As you move through university, you'll hopefully start to get a good idea of what it is you want to pursue as your graduate career. For some, however, the decision isn't so easy and approaching graduation still without a set idea can be stressful. Even if you have a vague idea it can be difficult to pin point exactly what it is each sector and role entails.
We put together this flowchart to give you an idea of what some key elements are and aren't involved in different sectors. Rather than giving an all encompassing plan for the future- we're fully aware there are more than 5 sectors out there!- we wanted to give you an idea of the sort of questions you should be asking yourself. Focusing on the key things you want in a role and finding the sectors which encompass these is a great way of narrowing down your options when starting your search- and it might open up other paths you hadn't previously considered!
Of course there are many different areas within each sector, consider for example within Marketing you might choose to do Advertising or perhaps Content Marketing. Within Finance you might decide Investment Banking is the way to go for you. Strategy Consulting is more niche and there are many other areas of consulting that you can go into and it's important to be clued up on what these are and which of them you're interested in.
---
Know what sector you want to go into? Check out our vacancies page for all the latest opportunities we have in a wide variety of sectors in awesome Start-ups!