Blog: How to run assessment centres remotely
3 July, 2020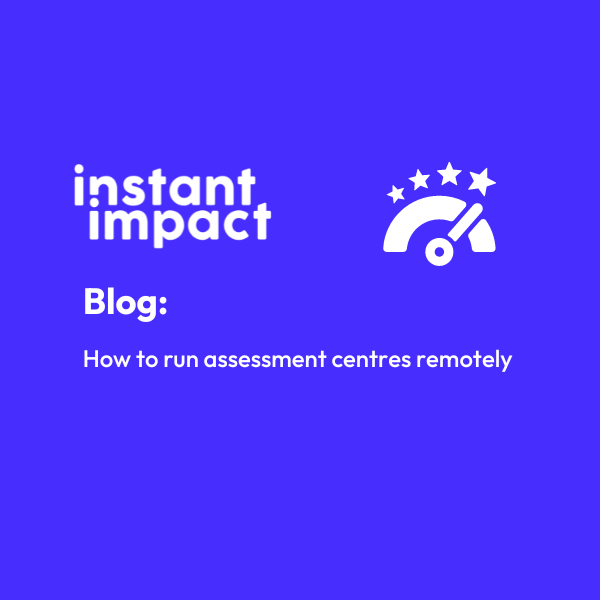 ---
How to run assessment centres remotely
Remote working is something that all companies have had to engage with as a result of the current global crisis. However, with the start of the new academic year only months away, the next component that lots of companies are starting to consider is how they're going to run the recruitment for their graduate programmes. For many businesses, assessment centres are a key component to their graduate recruitment process. One topic in particular that's causing a big headache is how to run assessment centres remotely.
At Instant Impact, we've come across two schools of thought that have worked well for this
Remove group assessments and expand your interviews / case studies to ensure that you assess the same skills that you were assessing in your group assessment.
Replicate your group assessments online. Key points to consider:
a) How can you put candidates at ease? They usually get to meet each other in reception, can you replicate that by having the first 15 minutes as a non-assessed opportunity to meet each other. Encourage candidates to arrive onto the Zoom early and make it clear that representatives from your company will only join at a specified time. Alternatively, have some ice breaker activities to get everyone into the swing of things!
b) How can you ensure that everyone is heard? We've all been on Zooms with too many people where it's difficult to get a word in - that's amplified when people are being assessed. Consider breaking out into smaller groups for part of the assessment so that it's easier for everyone to shine
c) Get the order of your day right - candidates might be more at ease for a group Zoom assessment after seeing that it worked well for their interviews / case studies.
If you would like more information on this topic, we ran a webinar on how COVID will impact graduate recruitment to learn how our clients are tackling remote attraction and assessment for their graduate programmes. This webinar took place on 29th June. Watch the recording here.
We also ran a webinar on 12th May which was specifically focused on Remote Recruitment and Onboarding. If you would like to watch the recording of this, please do so here.
Written by Rob Blythe, Founding Director
---
---