London Living: AUGUST. What To See, Eat & Do
London Living: AUGUST. What To See, Eat & Do
11 August, 2015
August is all about being outside, making the most of the sunshine (when it decides to show up...), drinking cocktails and developing a new-found love for sports, which will inevitably die again when the warm weather disappears. But hey, one month out of 12 ain't bad...
You'll probably notice these summery themes running through all our recommendations this month, from watching the sunrise to dancing in the streets to taking on epic sporting challenges. We hope you enjoy these ideas and have a truly fantastic August!
1. Sky High Yoga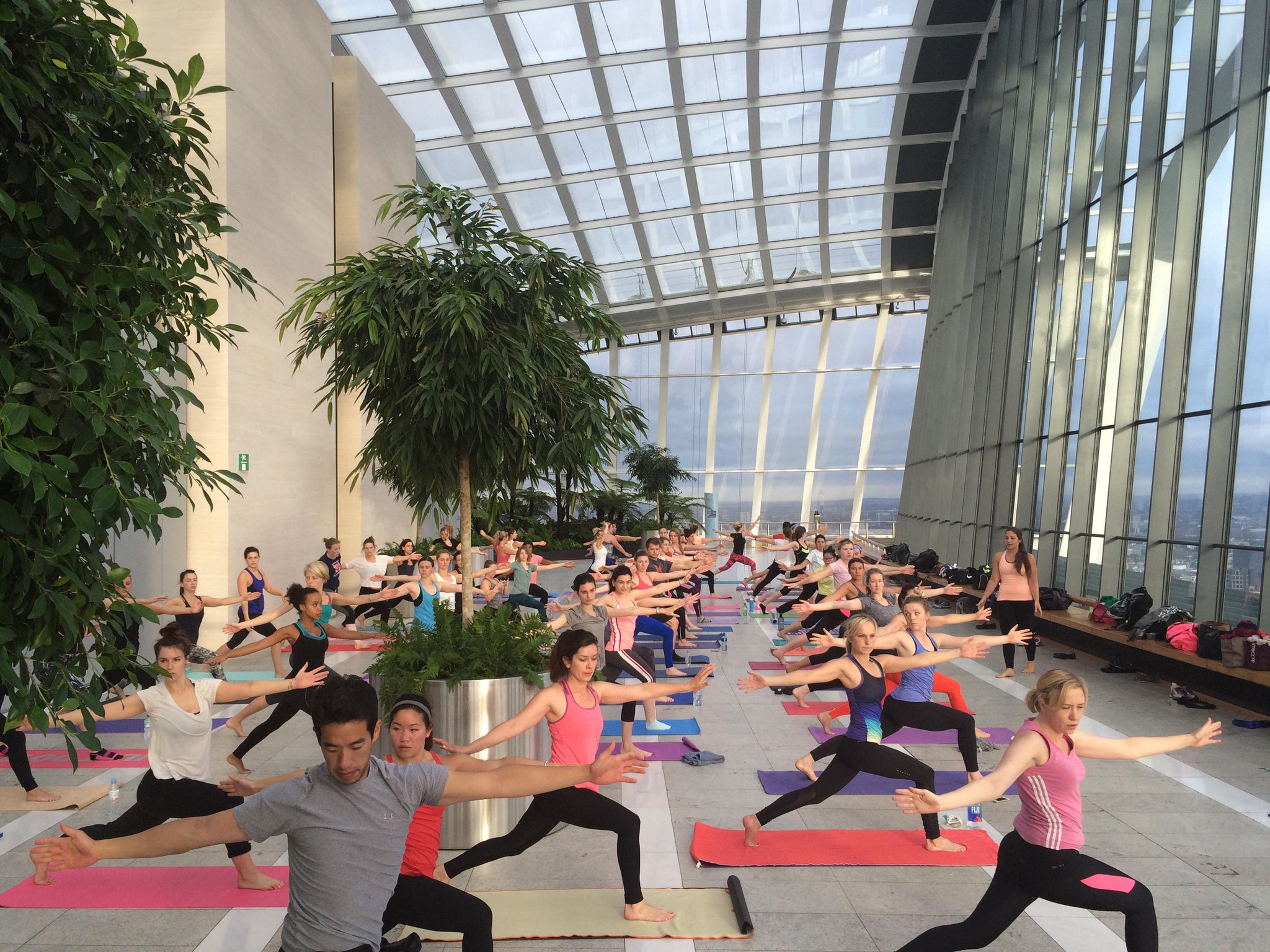 Image Credit: Sky Garden 
OK, so let's get the negatives out of the way - this class starts at 6.30am on Wednesday and Thursday mornings. For most of us, that probably means a pre 5.30 wake-up call and a somewhat bleary stumble through the city towards Fenchurch Street. However, as soon as the lift pings open on the 35th floor, you'll realise it was 100% worth it. The venue is truly spectacular, especially that early in the morning when first light is fresh over London and the whole city seems to be glowing.
Once you've taken in the view, snapped a few shots for Instagram and unrolled your mat, the yoga begins. So far, the classes have been taken by two wonderful and energetic yoga teachers - Issy Scobie of FlexLondon and Mona Heep of Mona Heep Yoga. The classes are suitable for all levels, so don't worry if your downward dog resembles more of a floundering fish. I mean, we're here to learn, right?! Besides, when the sun streams in through the glass roof whilst you're midway through a tricky little sequence, you'll feel like a total yoga goddess anyway.
Where: Sky Garden, 20 Fenchurch Street
When: Every Wednesday and Thursday morning through August and September
Cost: £10 per session
2. Notting Hill Carnival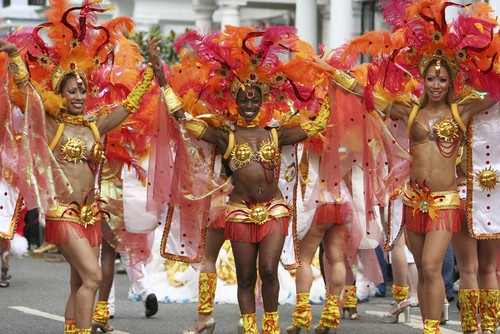 We couldn't talk about the goings on in London during August without giving a shout-out to Notting Hill Carnival. This annual festival is back for a weekend of partying, incredible street food and exotic costumes. Notting Hill is Europe's largest street festival, and it attracts more and more people every year. Be sure to catch the main parade, featuring amazing floats, pan bands and dancers. This is a perfect way to spend the Bank Holiday weekend (Let's just hope the rain stays off...)
Where: Notting Hill
When: 29th - 31st August
Cost: Free
3. Afternoon Tea Week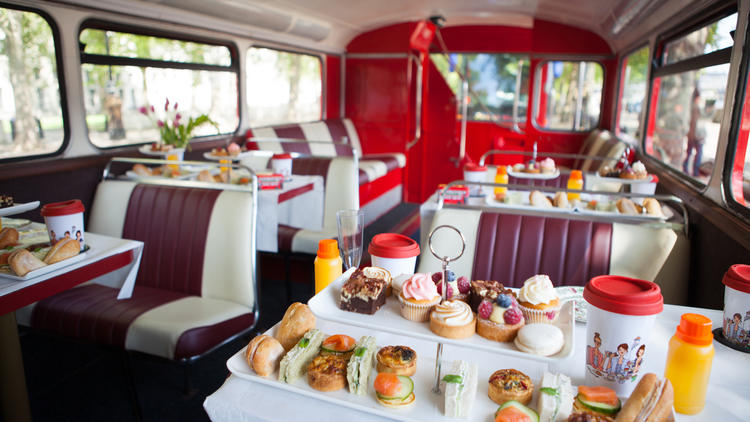 Image Credit: Time Out 
Could there be anything more British than an entire week dedicated to the wonderful Afternoon Tea. The week runs from 10th-17th of August, so make sure to book in a session of miniature delights for you and your friends. Our pick would be this decadent offering aboard a vintage London bus by the masters at BB Bakery. The bus tours around central London whilst you eat and drink, so you can indulge in amazing food AND sights! Plus, how adorable are those cups of tea with lids to avoid any speed bump disasters?
Where: Across London
When: 10th - 17th August
Cost: Varying. The BB Bakery Afternoon Tea costs from £45 per person.
4. Craft Beer Festival

Image Credit: London Craft Beer Festival
This uber-cool East London festival features an impressive line-up of London, UK, European and American breweries alongside some seriously mouth-watering food options. A ticket gets you unlimited tasters of all the amazing beers, a festival programme and even a free branded beer glass! This is a festival like no other, but certainly one that will delight any beer-lover.
Where: Bethnal Green
When: 13th - 16th August
Cost: £38.50 for an unlimited ticket
5. Urban Ninja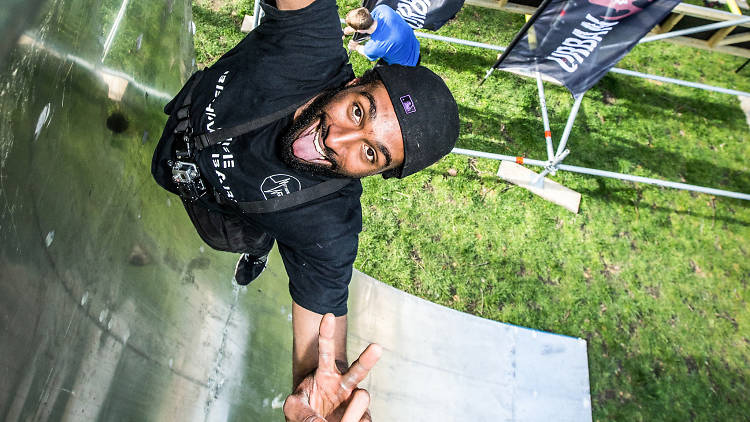 Image Credit: Time Out
This is one intense obstacle course. It's coming to Jubilee Gardens and Hyde Park during August so if you fancy pushing yourself to your limits, check this out. For those of us who are less sport-inclined, head over and watch as there are sure to be some pretty memorable moments! They reckon only around 1% of participants will actually manage to complete the course, which shows just how tough it really is.
Where: Jubilee Gardens and Hyde Park
When: 14th - 15th August (Jubilee Gardens), 29th - 31st August (Hyde Park)
Cost: £30 - £60 per session