Sales vs. Business Development: All you need to know!
Sales vs. Business Development: All you need to know!
16 August, 2016
When talking to candidates, we find people often get confused between the differences between these two roles so thought we'd give you the low-down so you can be in-the-know about which is for you...
Why do people confuse these two job functions?
There is a difference between Sales roles and Business Development roles. The common confusion over the two job titles stems from them both involving the person in the role to "win" new business. However, the way they go about this is slightly different. On top of this the two positions require a different kind of character and skill set, which I will go into below.
What is Business Development?
The typical role of a Business Development Executive (BDE) revolves around working closely with a Partner or Director to develop new business. This new business is generally gathered in the form of leads through the BDE's attendance at events, networking abilities, use of LinkedIn (or similar), or close work with the marketing department. So in short, a BDE utilises networks to build strategic relationships with businesses in order to win strong leads.
What is Sales?
The role of a Sales Executive (SE) works off the back of the work carried out by a BDE. The aim of the game for an SE is to close the leads bought in. They work directly with the targeted customer or business, normally on a one-on-one basis, rather than working closely with the Partner/Director like a BDE. Their role also involves demonstrating the product or service as well as putting together contracts and negotiating terms of business.
In Summary…
Both roles are two halves of the same whole. They work in tandem to bring in and then close new business. The reason for the split is to maximise efficiency as both tasks are time consuming. The chart below illustrates the closeness that BDEs work with marketing as opposed to sales which occupies the end of the client's journey.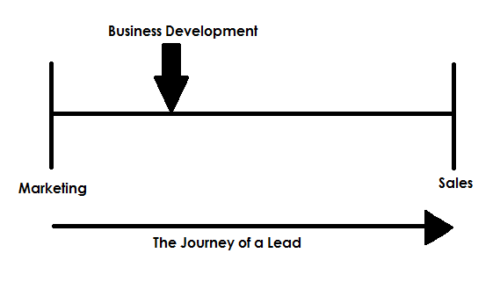 The ideal candidate for a Business Development Executive would display the majority of these traits:
Strategic thinking

Interested in Research

Happy to divide their time between working closely with people and working alone on research tasks

Confident talking to people in authority

Get up and go attitude
The ideal candidate for a Sales Executive would display the majority of these traits:
Thick skin

Happy working predominantly on the phone

Natural negotiator

Independent

Confident
Finally…
Start-ups, due to their size, often require candidates to be able to perform both roles simultaneously. It is worth finding this out if it's not clear on the job specification! Working in this role within a start-up can be highly rewarding as you are provided with a large amount of responsibility. You're also essential to the continued growth of the business. This can often result in considerable financial remuneration as well as quicker promotion than in other roles.
---
Decided one of them is for you? Check out our jobs board for the listings of all our current graduate jobs in both Sales and Business Development.