The Times: It seemed like such a good idea at the time…
The Times: It seemed like such a good idea at the time…
16 October, 2012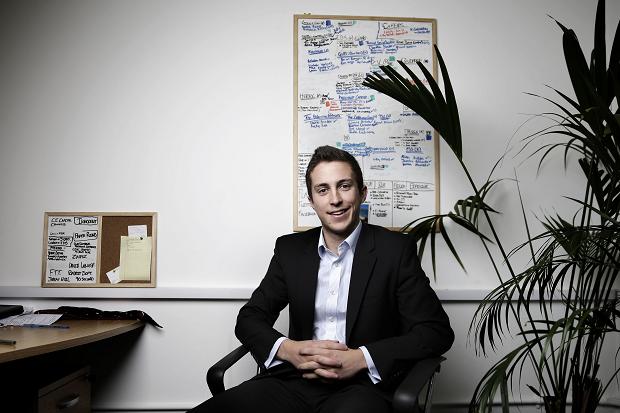 "Discovering what works and what doesn't is vital for any budding entrepreneur, reports Carol Lewis" in the Small Business insights in The Times on Tuesday 16th October. She interviewed Rob Blythe to find out about Instant Impact's experiences.
You can read the article in full online here, or, if you don't have a Times account, we've copied and pasted it below for you.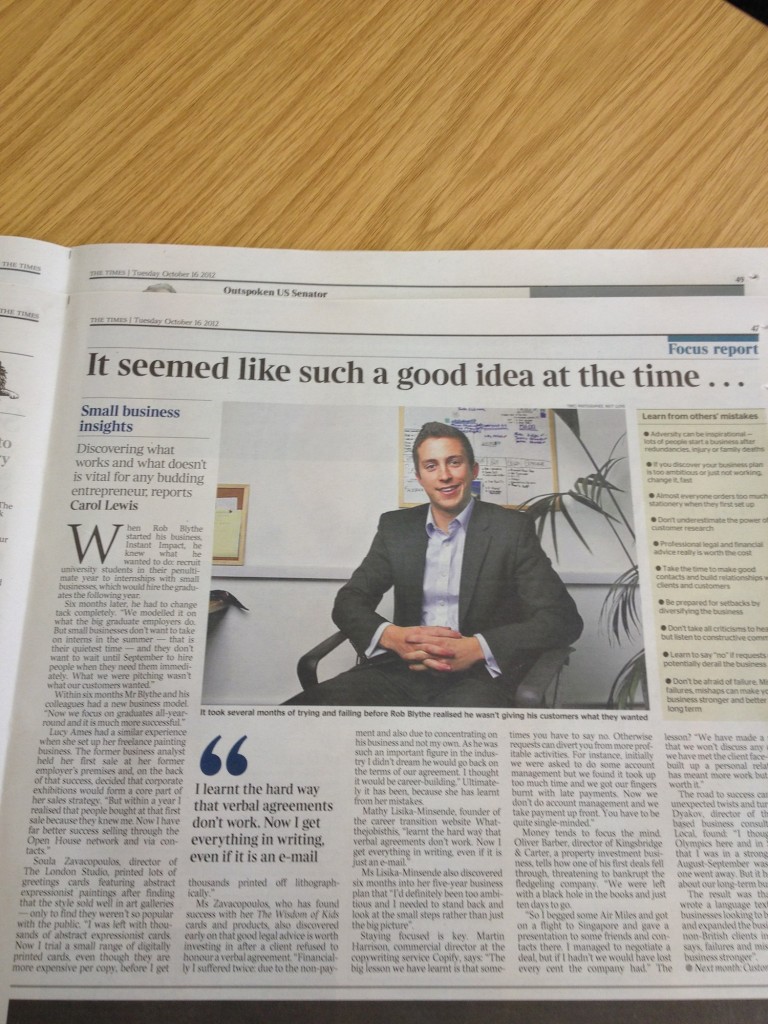 ----------------------------------------------------------------------------------------
When Rob Blythe started his business, Instant Impact, he knew what he wanted to do: recruit university students in their penultimate year to internships with small businesses, which would hire the graduates the following year.
Six months later, he had to change tack completely. "We modelled it on what the big graduate employers do. But small businesses don't want to take on interns in the summer — that is their quietest time — and they don't want to wait until September to hire people when they need them immediately. What we were pitching wasn't what our customers wanted."
Within six months Mr Blythe and his colleagues had a new business model. "Now we focus on graduates all-year-round and it is much more successful."
Lucy Ames had a similar experience when she set up her freelance painting business. The former business analyst held her first sale at her former employer's premises and, on the back of that success, decided that corporate exhibitions would form a core part of her sales strategy. "But within a year I realised that people bought at that first sale because they knew me. Now I have far better success selling through the Open House network and via contacts."
Soula Zavacopoulos, director of The London Studio, printed lots of greetings cards featuring abstract expressionist paintings after finding that the style sold well in art galleries — only to find they weren't so popular with the public. "I was left with thousands of abstract expressionist cards. Now I trial a small range of digitally printed cards, even though they are more expensive per copy, before I get thousands printed off lithographically."
Ms Zavacopoulos, who has found success with her The Wisdom of Kids cards and products, also discovered early on that good legal advice is worth investing in after a client refused to honour a verbal agreement. "Financially I suffered twice: due to the non-payment and also due to concentrating on his business and not my own. As he was such an important figure in the industry I didn't dream he would go back on the terms of our agreement. I thought it would be career-building." Ultimately it has been, because she has learnt from her mistakes.
Mathy Lisika-Minsende, founder of the career transition website Whatthejobisthis, "learnt the hard way that verbal agreements don't work. Now I get everything in writing, even if it is just an e-mail."
Ms Lisika-Minsende also discovered six months into her five-year business plan that "I'd definitely been too ambitious and I needed to stand back and look at the small steps rather than just the big picture".
Staying focused is key. Martin Harrison, commercial director at the copywriting service Copify, says: "The big lesson we have learnt is that sometimes you have to say no. Otherwise requests can divert you from more profitable activities. For instance, initially we were asked to do some account management but we found it took up too much time and we got our fingers burnt with late payments. Now we don't do account management and we take payment up front. You have to be quite single-minded."
Money tends to focus the mind. Oliver Barber, director of Kingsbridge & Carter, a property investment business, tells how one of his first deals fell through, threatening to bankrupt the fledgeling company. "We were left with a black hole in the books and just ten days to go.
"So I begged some Air Miles and got on a flight to Singapore and gave a presentation to some friends and contacts there. I managed to negotiate a deal, but if I hadn't we would have lost every cent the company had." The lesson? "We have made a stipulation that we won't discuss any deal unless we have met the client face-to-face and built up a personal relationship. It has meant more work but it has been worth it."
The road to success can have many unexpected twists and turns. As Ignaty Dyakov, director of the language-based business consultancy Russia Local, found: "I thought with the Olympics here and in Sochi in 2014 that I was in a strong position, but August-September was dead. Everyone went away. But it helped me think about our long-term business goals."
The result was that Mr Dyakov wrote a language textbook aimed at businesses looking to break into Russia and expanded the business to appeal to non-British clients in London. As he says, failures and mistakes "can make business stronger".
Learn from others' mistakes
•Adversity can be inspirational — lots of people start a business after redundancies, injury or family deaths
•If you discover your business plan is too ambitious or just not working, change it, fast
•Almost everyone orders too much stationery when they first set up
•Don't underestimate the power of customer research
•Professional legal and financial advice really is worth the cost
•Take the time to make good contacts and build relationships with clients and customers
•Be prepared for setbacks by diversifying the business
•Don't take all criticisms to heart but listen to constructive comments
•Learn to say "no" if requests could potentially derail the business
•Don't be afraid of failure. Mistakes, failures, mishaps can make your business stronger and better in the long term