INSIGHTS
Job Seeker Resource Centre
Conducting a Killer Interview
30 November, 2016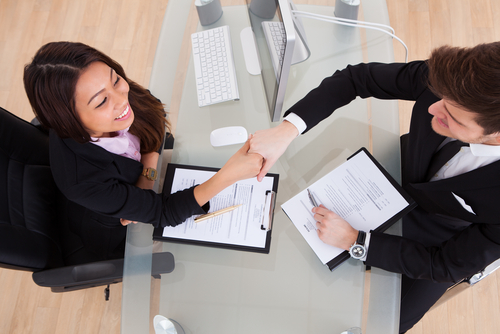 ---
Conducting an interview can often be just as nerve wracking for the interviewer as for the interviewee. For SMEs looking to hire the perfect candidate to help their business grow, it's a vital process to master. Finding the best graduates for your company is a must.
Here at Instant Impact our quest to hire graduates for SMEs relies on our hot interviewing skills. Hiring has been something we've gotten damn good at over the years and we've learnt plenty of lessons we can share with you.
Just like candidates improve after each interview, so does the interviewer. So if you're a hiring SME, here are some points for you to consider:
1. Make part of the interview task specific – Asking the candidate to perform a relevant task under pressure is beneficial to both the interviewer and interviewee. When hiring graduates here at Instant Impact, this shows us if the candidate has an understanding of the role, whether they can step up to the challenge and if they can stand the heat. Moving away from the 'competency based' style helps you view the practical aspects when hiring.
2. All in the prep – As any decent chef would tell you, the key to a great dish is in the preparation. It's no different for SMEs in the interview room. As an interviewer you have to be super prepared and in the right mental state for the type of interview you are conducting. Decide the tone before you go in, and, if you can't stand the heat, get outta the kitchen!
3. Pitch the level of provocativeness against the job role – When hiring don't be afraid to ask confrontational questions when needed for certain positions or seniority. But equally, for the power hungry out there, there's not much point in leaving an intern quivering in their boots to the point their words turn to mush, ain't nobody got time for that.
4. Pre-frame the interview – Be transparent about the interviewing process from the start. If you're going to give them 'grilling' let them know and tell them why. People will react better when not caught by surprise, it could bring out the best in them!
5. Use probing to stay on track – Be specific, pinpoint that one mandatory question necessary to make a decision on hiring for your SME and get an answer to it. If you come away without it, either the candidate has failed in their response, or worse, you have failed to dig deep enough. Either way no hiring will be going on here.
6. Be dis-passionate – A common mistake SMEs make is falling straight for the personality fit. Personality is exceedingly important for small businesses and whilst we all know you guys are lovely, it's fundamental that the job in hand gets done. Don't let similarity to you and your passion cloud you judgement, or you will get in trouble down the line.
7. Any questions? – An interview is also a time for the candidate to decide whether the company and job is right for them. Again, you're great – so let the candidate see this by allowing them to ask questions they may have.
8. Have a good follow-up procedure for rejected candidates – Always give feedback over the phone. A brief explanation will keep the candidate positive, and help keep you and the company's reputation in a good light, vital for all SMEs. Mix the bad with the good and always assure them it was a pleasure, even when challenged remain friendly and curt.
————–
Instant Impact are the UK's leading graduate recruitment agency. Based in London, our specialty lies in finding the top graduates from the best universities for your SME or Startup business. Get in touch and give us a ring on 0203 762 2134.
< MORE SMEs & STARTUPS: What Graduates Want to Know From an SME
---
---
BACKK TO JOB SEEKER RESOURCE CENTRE
---