How To Use Your Gap Year In The Job Hunt
How To Use Your Gap Year In The Job Hunt
14 June, 2017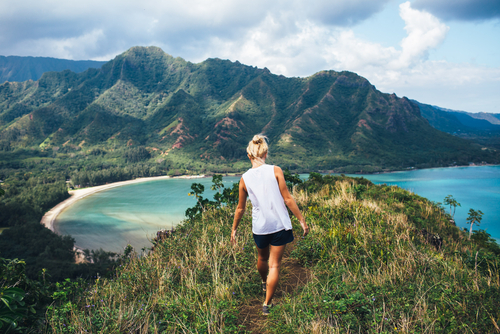 There are so many reasons why you might choose to take a gap year after graduation, and if you find yourself with wanderlust it really is the perfect time to jet off and explore the world. We've already weighed up the pros and cons of a post-uni gap year, so now we will talk about how to use a gap year to your advantage when you're
searching for a graduate job
.
Not long after your plane touches UK soil after several months of exploring remote locations, career fear may begin to set in. How will you convince employers you did way more than just party and sunbathe for the past year? How will you compete against people who have spent those same months working solidly in an internship? There are a few things you can do, both before departing for your epic adventure and once you get back, to make sure your gap year becomes a great weapon in your job hunting arsenal.
Think carefully about your career and what skills you'd like to develop
Now it's certainly true that your gap year could change your goals and aspirations in life enormously. However, it will always be a good idea to think about your career and the kind of work you hope to go into before leaving. This way, you can identify which skills you need to work on during your time away to ensure that you're perfectly positioned to start applying for jobs once you get back.  For instance, if you want to go into marketing you could start thinking about ways to utilise the internet and social media during your time away (but more on that later!) or perhaps you're interested in finance, and some relevant work experience could be a good CV boost.
Be able to confidently articulate (and possibly defend) your reasons for taking a gap year 
Once you do start applying to jobs and going to interviews, you will undoubtedly be questioned on your decision to take a gap year. Particularly tough interviewers may try to ruffle your feathers and catch you off-guard, but don't panic! You took a gap year for a reason, now all you need to do is share that and show that you achieved what you hoped to when you set off. Whether you wanted to see more of the world and learn about different cultures, increase your confidence, push yourself out of your comfort zone... Practice this question several times before heading to your first interview so that you know it won't phase you.
Don't forget to gain some work experience
Getting a job whilst you're away could be the last thing on your mind when dreaming about your amazing year out trekking through jungles and meeting new people. However, never pass up the opportunity to grab some part-time or voluntary work on your travels. First of all, this will be quantifiable proof that you used your gap year to better yourself and become more employable. Even better, it means that you won't be too far behind your peers work experience-wise (and having a little extra pocket money can't be a bad thing, either).
Start a travel blog
This one might seem a little obvious, but starting a blog to document your travels and experiences is actually a great idea. On a personal level, it will allow you to easily keep in touch with family and friends without spending your evenings writing 14 different emails, and will also serve as a great reminder of the amazing things you did whilst you were away. Even more importantly, it could be a very savvy move careers-wise, too. Starting a blog proves you did way more than just hang around and randomly wander across the Southern hemisphere, it will show a good level of commitment, planning and time management. You'll find yourself developing a whole host of new skills whilst blogging, too, such as basic HTML coding (and we all know the importance of that!), improved written communication, the use of social media for promotion and even photography. Even if you don't particularly want a job in marketing or a related field, these skills are really attractive to employers in this tech-age and show you're a fast learner, too.
Use that new-found confidence to become an interview superstar
One of the best things about taking a gap year is how much more confident you'll feel when you get back. You'll have travelled the world, met a tonne of new people and had some pretty incredible experiences and trust us, this confidence will come in incredibly handy during the job hunt. First of all, you'll have so much amazing material to pull great answers from: Been outside your comfort zone? Check. Gone the extra mile? Check. Planned and executed a project from start to finish? Check.
We can't stress enough the importance of speaking confidently and clearly during an interview - you really need to believe that you're the right person for the job and that you have all the skills to ace it! Graduates just back from a gap year find they have a real self-confidence that sometimes cannot be matched by those straight out of university.
---
If you're recently back from your gap year, or are simply just looking to pick up tips to help you secure a graduate internship or permanent post, don't forget to check out all the other career advice resources we've curated for you.
We cover everything from CV tips and employability advice, to filling the skills gap and the Start-up culture.