Sometimes we forget in this mainly virtual world about the power of connecting with peers from other industries that are facing similar challenges to us. Last week I had the pleasure of attending a TALiNT Partners virtual round table, that brought together 15 Talent Acquisition (TA) leaders from multiple industries (Highways to Veterinary to Hospitality) across the USA. During a very engaging hour we discussed several topics from right across the HR and talent acquisition spectrum. I noted three areas that I found interesting and thought I'd share those with you today. 
Technology Systems and the Hunt for Data
One of the first things that we talked about as expected was the use of various technology systems, with ATS selection being the front runner and what can be done as well as some changes that were not necessarily best for TA (HR systems driven). It was however interesting to hear that for some workers (especially in volume where they apply for multiple jobs at once), that a follow up text conversation trumped a call, due to people not answering the phone. However, the main issue faced by all was meaningful data extraction (without oodles of pain!), especially with the volatility in the market and TA needing more than ever to leverage the power of data.  
Many talent acquisition leaders (if you take this sample) currently are struggling with being able to leverage the various technology systems at their disposal and get relevant, actionable data out that they can present to senior stakeholders. One talent acquisition leader had actually hired somebody into her team just to pull data and metrics! They needed to look at improvement areas and points of failure and success in the process, then provide that guidance up to the Executive Leadership Team (ELT). Although just one example, as the conversation progressed it became apparent that other people were having to use multiple 'work around' processes to get data they could use to get information.  
Why is it even more important now? I think due to the market (layoffs, hiring freezes and general uncertainty some of the leaders were needing to show the unique value that TA leadership and expertise can bring to an organisation and how they can shape business outcomes. One of the TA Leaders mentioned how they had looked at their end-to-end process and been able to significantly improve it both from a candidate and a hiring manager experience and more importantly further ingrain significantly more Equity Diversity and Inclusion (EDI) practises. In a classic case of unintended consequences this led on to further gains in the engagement of their Employee Resource Groups (EGRs)  
---
The importance of ERGs and significant acts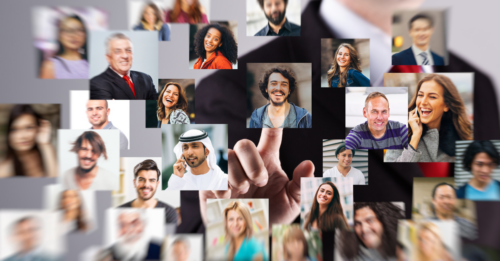 EDI and especially ERGs is a really hot topic at the minute and was so during the roundtable. Many Leaders talked about the real value of having engaged ERGs in their organisation, not just in namesake but having groups of people within your organisation that really provided meaningful insight and drove change internally (and by default externally) throughout the organisation. A key learning for me was 'going to candidates' rather than having candidates come to you. If we really want to be equitable and inclusive in our process, we need to make sure that we are serving information to candidates and providing the value up front, not relying on them to find out or provide us with the information.  A great example was that one of the companies within the service industry had started providing their employee handbooks in any language that the candidate chooses. For me this is a real game changer because from day one it makes people feel included as they're not having to read and digest information that is arguably critical to their success in a second language.  
---
External Validation goes a long way in the candidate market
This led on to a third point around external validation.  One of the companies had focused on gaining accreditation as a great place to work and found it made a measurable difference (though easily gaining the data was a challenge) in the applications they got from people who had done their research and wanted to come and work for them. It shows that while some people may consider those external awards as vanity metrics, they can make a significant difference when it comes to getting candidates to apply in a competitive marketplace. A good case in point for marginal gains making the difference, often small things add up. 
---
Real Talent Communities will be the difference
For years we have talked about Talent Pools, though in many cases they are 'Talent Buckets' where candidates are dumped in the hope of being reactivated at some later date. Recently however the concept of communities and engagement has picked up pace and it was great to hear form a leader who has not just done it, but really made it work. This TA leader (in Tech) talked about the benefit they had seen in 2023 from spending a full year (yes, last year in 2022 when the market was hyper competitive and out of control) building, engaging, and nurturing a talent community. In collaboration with the business, this is a collection of people  that have been sourced as relevant to the company that continue to be nurtured and engaged with the company through tailored, targeted, and selective messaging. With current opportunities this has driven a reduction in time to higher throughout 2023 in some pretty difficult and complex roles due to a pipeline of candidates, many already in work who wanted to work at that company. Now some people may say that is because the market is shifting but the data that this person was able to provide showed these hires were coming from the talent community that was being built engaged and nurtured over time and not necessarily all from net new applicants. This shows that if you invest your time (and your TA team's time) focusing on the right practises that not a lot of people are doing, you can really drive value from that activity in the future. I'm sure as the market changes again this company will end up well ahead of their competition. 
A great conversation, thanks to Ray Culver and Declan Slattery for hosting, it was good to recover some of the basics and see that shared pain in a productive environment can be a real source of innovation. For me I will certainly be taking away the need to ensure data extraction and analysis is as seamless (and automated) as possible, look for how we can make the most of our most valued assets through activating and empowering ERGs and how investing in what you know is right will pay off (though you do need the data to prove success!)