As a small or medium-sized enterprise (SME), we know how challenging it can be to stay ahead of the curve and remain competitive. We're an SME too so know first-hand the trials that come with new tech, market trends, and economic shifts. We also understand that it's more important than ever for businesses to anticipate and prepare for the future.
We had a chat with Rob, our co-founder and CEO, on the subject of business transformation and, specifically, how SMEs can futureproof by using talent management strategies.
Are you a leader starting and/or growing a business? Learn from Rob's own personal experience at the helm of the Instant Impact ship. (And even if you're not, buckle up for some insightful lessons that can be applied to lots of other business areas!)
---
The future of recruitment and RPO
If you're familiar with recruitment, you'll know it's a whirlwind of an industry which never stands still. With change constantly on the horizon, we were keen to know Rob's thoughts on any specific trends he feels will impact us as a business (and others like it) in the next five to ten years.
He began with tech - a hot topic right now – and not just in the recruitment world. Rob shared that he believes that technology, such as AI, will significantly impact recruitment.
And he's not alone. Countless leading organisations are exploring the effect of AI on hiring, including Forbes, who recently cited Amazon as an example of a company offering "buyouts to its recruiters and could look to replace them with artificial technology software."
But Rob believes, despite tech changing the way we recruit, we're far from replacing people. As Forbes stated: "AI doesn't have to replace recruiters. There will always be a need for human interactions between search professionals and job seekers. AI recruiting automates time-consuming, boring, and repetitive tasks efficiently. The technology provides personalisation and data insights during the interview process that can help make better decisions without emotions or biases." [click here to learn more about how to find the right balance between AI and the human touch]
The impact of tech wasn't Rob's only prediction. He expects continued growth in the use of contingent workforces for providing flexibility. The number of contingent workers has significantly climbed in recent years – from 1.45 million in January 2020, to 1.62 million as of July 2023. Some projections suggest continual global increases of 53% during 2023 and a 34% increase in 2024. Companies are enjoying other benefits of hiring contingent labour, including quickly filling gaps, cost savings (i.e., paying for short-term employment for only as long as you need it), avoiding tax complications, and, of course, experimenting with different skills and approaches.
It is also likely that more and more companies will outsource recruitment via RPOs due to fluctuating hiring demands. A survey has revealed that RPO is becoming an increasingly popular option for companies looking to improve their hiring processes. 43% of respondents shared their plans to outsource all or part of their recruitment in the next two years. Post-pandemic there was a growing emphasis on recruitment outsourcing, and this has only continued as businesses recognise their greatest strategic asset is attracting and retaining talent. Ultimately, partnering with experts can provide a more holistic solution for securing future success.
---
Identifying critical skills
The secret ingredient for futureproofing your business is the individuals within it. The Talent Directors at Instant Impact work closely with our client partnerships to identify emerging skills that are critical for achieving their individual business goals. So, how do we do it?
"I like to work backwards to determine the skills needed." Rob explained that the leadership team look at what can be automated and augmented with technology versus what requires human skills. That said, the process for anticipating skills also relies on understanding the company's goals, as well as changes in the market and/or the way we work.
Indeed pinpointed 18 key skills that will help companies to thrive long-term. They include things like communication, analytical and problem-solving skills, creativity, and emotional intelligence. There's no right and wrong here though and identifying the skills that'll help your business to thrive is what's important. No two businesses are the same.
If you're unsure what skills your organisation needs, don't overlook the power of talent intelligence and workforce planning tools; they're revolutionising the way we strategise talent management. Talent intelligence software uses AI and machine learning algorithms to sift through vast amounts of data from various sources - think social media platforms, job boards, and company websites. There's now a whole host of tools that can not only provide us with data to inform strategic workforce decisions but also help us to understand where the best talent is located, what skills they have, and what roles competitors are hiring for.
Workforce planning, on the other hand, involves using these insights to make informed decisions about hiring, training, and talent development. It's about feeling confident that the right people with the right skills are in the right place at the right time. By understanding the current talent market, companies can plan their workforce more strategically, whether that means focusing on internal upskilling, hiring new talent, or even redistributing existing talent to areas where they're most needed.
In essence, it's these talent intelligence and workforce planning tools that will provide your business with a competitive edge. With them, you can turn complex data into actionable insights, allowing you to be proactive, not reactive when it comes to your talent strategy. For tips on how to get started with talent intelligence, click here.
Another challenge that we face, like other SMEs, is how to balance the need for immediate skills required to run the business with the long-term skills to stay competitive in the future. How do we do this? We bring in outside expertise for skills that don't currently exist internally. But that doesn't always mean hiring…
We're passionate about internal learning and development for strengthening skills (more on that later). Rob explains, "I acknowledge the need to be humble about what the company knows and doesn't know. That's so important for any organisation to flourish."
Stats released in a report by CIPD, show that "Nearly two-fifths of organisations (38%) are increasing efforts to meet their talent requirements by developing more talent in-house. Upscaling existing employees is the most common response to recruitment difficulties (60%)."
---
The importance of HR and talent teams
With talent at the centre of futureproofing, HR and talent development play an important role. CEOs may lay out the vision and direction of a company, but it's the teams responsible for hiring, training, and retaining that will bring that vision to life. So, how do we involve these key teams?
We see HR as crucial partners in determining skills gaps and forecasting future requirements. We also rely on HR and talent teams to better understand whether to develop or hire skills, as well as to advise on things like company culture.
According to HR services and training provider Chrysos, "All too often recruitment processes within a business are reactive; but by having a talent planning process in place, recruitment can be proactive, and the business' future is proofed by preparing for the competencies it will need in the future."
Echoing these thoughts, Rob highlighted that HR is central to driving company vision and executing people strategy. And, importantly, he believes that HR's scope will only expand further as technology advances to bridge skills gaps.
A continuous development culture
Richard Branson is famous for having said "If you look after your staff well, they will look after your customers. Simple."
We agree. Taking care of our team is embedded into our culture and great importance is placed on maintaining work-life balance. Then there's upskilling, of course. But not only in terms of developing technical abilities. Our leadership team is dedicated to fostering the mindsets and behaviours that encourage ongoing learning. Both Rob and Felix "encourage feedback at all levels and celebrate those who provide it."
And it makes sense to do so. Did you know that a staggering 98% of employees disengage from their work when they receive little or no feedback? While 43% of the most highly engaged employees receive feedback at least once a week.
We think "it's crucial to communicate vision and values repeatedly. It's important to involve others in shaping vision and direction too." The rationale for business decisions to encourage and bring people along is regularly shared. Ultimately, the aim is to create an environment where people feel comfortable challenging the status quo.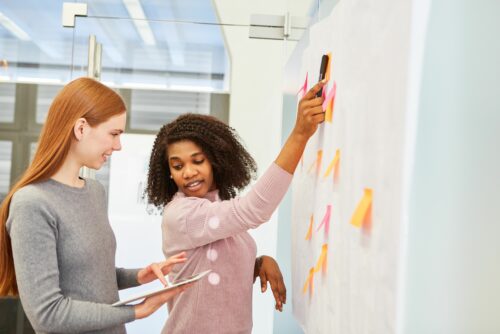 As for getting the leadership team on board, Rob and Felix make sure they invest in relationships. They have worked hard to develop an awareness of our leaders' strengths and weaknesses. One of Rob's most important pieces of advice for other organisations? Ensuring senior staff demonstrate the company's values and continuously nurture an innovative culture. We want our leaders to engage with new trends and bring new ideas to the table. And to not only talk the talk, but also walk the walk.
It's about staying ahead of the curve. We realise that as an SME it's essential to anticipate and prepare for the future. By mapping the skills and roles needed and investing in learning and development initiatives, SMEs can remain competitive and future-proof their businesses.
Of course, in our own business, we're still on the journey to growth. We recognise that some things have worked, and that some things haven't. We're still learning every day – and in a landscape as changeable as recruitment it's crucial to recognise that even the things that worked today, may not prove quite as successful tomorrow.
"We're really excited about the journey we're on. I really believe that with a commitment to ongoing learning and development, SMEs can position themselves for long-term success." - Rob Blythe.
If you're interested to know more about how we run our business then two books that help are No Rules Rules by Reed Hastings & Erin Meyer, and Traction by Gino Wickman – check them out for lots more inspiration!