Our Interns: Tom in marketing
Our Interns: Tom in marketing
24 February, 2014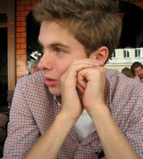 The Instant Impact team have been catching up with the interns we have placed to find out more about their experience of working in fast-paced and fun SMEs who hire graduates. Here we caught up with Tom Belger and his marketing
internship
with a digital video game company.
----------------------------
Tom is studying Politics at the University of Cambridge and is graduating this summer. He is interested in pursuing a career in media, marketing or charity sectors and has used his time at university to gain impressive experience through his roles as Interviews Editor of a student newspaper and Treasurer of a campaign group.
Tom started his internship in the summer, after a quick interview process.
'I was really impressed by Instant Impact. They're a very slick company, throughout the whole process- interviews, phone calls and even the website itself. They were very helpful and genuine.'
Could you describe an average day at your internship?
One day I'd be chatting all night to punters in a Cambridgebar about their feedback and ideas on the units; another I'd be doing a presentation on the units to the manager of the Arts Picturehouse; another I'd be designing drinks adverts for the bar.
Every organisation's promotional materials will talk about 'dynamism' and tell you 'no two days are the same', but the potential variety of work as an intern at a small, fast-growing start-up is surely more than the potential as an intern in a big corporate office. That was my experience as a Marketing Intern at Captive Media, a company breaking really new ground in the washroom advertising industry.
What have been the highlights of your placement?
I supervised the first trials of Captive Media's washroom video game units at a Cambridge bar
I conducted and co-designed market research via 75 punter interviews, used in promotional materials. This was great fun. It was really fulfilling to be finding and translating customer feedback and ideas into better products, with new units for women, and new games & video content.
I identified, pitched to and liaised with 100+ advertising prospects. This was invaluable for honing communication skills with a wide range of audiences, from local to multinational businesses.
I also designed unit adverts for in-bar promotions, leading to 46% uplift in Corona sales across trial period.
I analysed the bar's EPOS (sales) data and presented on the units' sales impact, influencing bar to purchase the units.
This internship is definitely one of the most impressive things on my CV, developing a really wide range of skills including research, presentation, sales, design, oral/written communication and much else besides.
What are you doing now?
Completing my final year at Cambridge in Politics, and applying for various internships in the third sector, media, marketing and political organisations.
----------------------------
If you're a student or graduate looking for paid internships in exciting, fast growing companies, then get in touch with Instant Impact, the internship recruitment agency, to find out more.