How To Enhance Your Digital Skills
22 February, 2018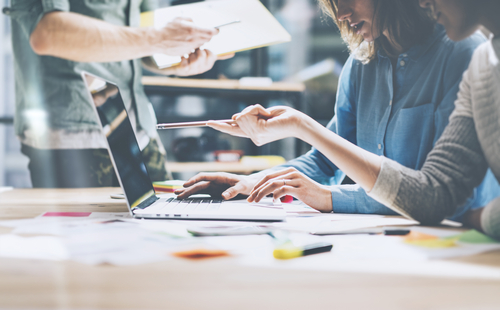 ---
Whether you want a career in a fast-growing tech start-up or you're looking to upskill, reskill, or cross skill, we have some top tips that are sure to help progress your digital career...
1) Free Online Learning
Online learning platforms such as The Digital Business Academy, Google Digital Garage, and FutureLearn all offer free immersive digital courses that are available at your fingertips from any device. Although these courses do not lead to a direct qualification, both The Digital Business Academy (a joint venture by Cambridge University, UCL and Tech City UK) and Google's Digital Garage offer successful students certificates that can boost your CV and LinkedIn profile!
2) Paid Online Learning
A recent Manpower survey found that 93% of millennials would spend their own time and money to learn valuable new skills. If this sounds like you, Udemy, General Assembly and Udacity are leading the way with their digital courses – we're talking anything from machine learning Nanodegree's to artificial intelligence courses.
3) Hackathons
Do you get inspired by working with talented people? If so, a hackathon may be a great place for you to practice your digital skills. Hackathons are often full-day events where people collaborate intensively on software projects. You could be overcoming digital challenges, innovating novel strategies or creating new products. Not only are they great opportunities to meet talented people from the tech industry and practice your digital skills in a low risk environment, but they give you something exciting and relevant to talk about in your next interview.
4) Institutes, workshops & academies
Digital bootcamps and academies offer fast, high impact learning that is assisted by access to top-notch mentors. Coding courses are a popular choice, with many students starting with very little proficiency and graduating with the skills to get a job as a developer!
We recommend finding an academy that suits your schedule, School of Code in Birmingham is a 16 week immersive full-time programme, whereas Code First: Girls will teach you the basics and only requires one day per week for 8 weeks.
5) Digital Events
There are hundreds of tech-related events happening each week across the country, as well as a growing amount of highly engaged tech communities. London hosted 22,000 tech related events in 2016 which is more than any other European city, and the best part is that they're often free!
Events give you the chance to mingle with tech professionals who come together to swap ideas and experiences. You can join tech communities on meetup here.
6) Internships
A recent TechNation report identified that a lack of relevant industry experience is the primary recruitment challenge for digital businesses. This means that going out and getting yourself some hands-on digital experience is a great way to make sure you can stand out and bag your perfect job. If digital is a whole new ball game for you, be prepared to start from the bottom of the ladder with work experience or an internship as this is an excellent way to learn the ropes!
This blog was written by Jack Preece, Learning Creator at Tech City UK - Helping start-up and scale-up digital companies accelerate their growth through programmes, research and events.
---
Looking for a digital internship, graduate role or maybe a new challenge? Check out our jobs board for lots of exciting opportunities - no matter where you are in your career! Alternatively, if you're an employer looking to recruit top talent, drop us line and we'll be in touch to discuss how we can help!
---
---