Is remote working here to stay?
10 June, 2020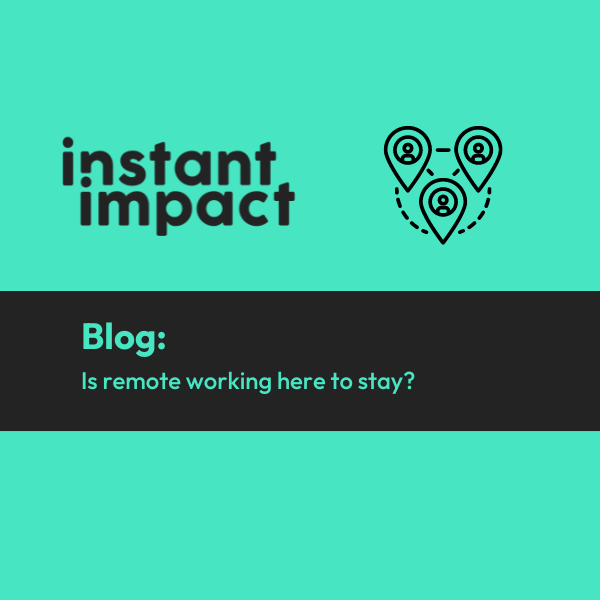 ---
The question that everyone is asking right now - is remote working here to stay?
The move remote is the biggest single shift to our working style that any of us will ever live through. Companies that use this crisis to prepare for a truly globalised world will lead their industries. As for others? Well, look at Blockbuster...
Facebook announced today that they are expecting to have 50% of their workforce working remotely within the next 5-10 years. Twitter have allowed their teams to work from home forever and why not?
Working from home works - sure, it was clunky and challenging at first but we got there.
Even the most tech-challenged professional services companies have managed. Barristers still wheel boxes of notes from their inn to court and back again but they had no choice but to adapt like the rest of us! I've been the company hold out on flexible working - I just didn't believe that people (myself included) would be as productive working from home. I was wrong! The largest social experiment in history has concluded that many companies don't need to be in an office to survive or even thrive.
So with that in mind, will we all go back to working 5 days a week from a cripplingly expensive office in the city, cramming ourselves onto the tube like grumpy, sweaty sardines? I don't think so.
A remote opportunity 
At Instant Impact we think that remote working is a change that is here to stay and we're very excited about it. In fact, this could be the single biggest change in our working style since the invention of the internet. As with any change, opportunity will follow for any company brave enough to take it.
British companies have proven that we can hire, onboard, train, manage, motivate, promote, review, and performance manage all from the relative comfort of our kitchens. So have the Americans. So have the Chinese, Indians, Malaysians. So has the world.
It won't be long until companies start to realise the potential here. I can show you now. There are just over 11,000 Finance Directors registered in the UK on LinkedIn. There are 52,000 in the US. There are over 100,000 in the world.
Companies that decide not to return to the office and companies that can digitise their recruitment, HR, and managerial processes over the rest of 2020 will lead the charge and change the game.
What does it mean when your new sales hire could be from Cape Town, Coventry, or Colorado?
Think about this, the average annual salary of a sales executive in Cape Town is £7,500. It's £21,700 in Coventry. It's £50,000 in Colorado.
Do you see what I see?
Written by Felix Mitchell, Founding Director 
If you would like to learn how to successfully recruit and onboard remotely, watch our Webinar on Remote Recruitment, led by the Founding Directors.
---
---