When someone is asked what the purpose of their recruitment team is, what do you think the most common answer is?
We promise it's not a trick question...
More often than not the response is - "to hire people" - which is of course a core responsibility of a talent acquisition function, however, there's so much more value the talent acquisition function can add.
We asked one of our Talent Directors, Lauren Bass, to share her advice and professional insight into the additional value that a high performing talent team can bring to a business. If HR & Talent leaders adopt a strategic approach, it will not only benefit the business, but they will gain a seat at the top table and further contribute to company goals.
So, how can we define value add?
In a nutshell, value add refers to anything beyond delivering on the core recruitment process. For example, this could include analysing how recruitment impacts retention, improving diversity, informing financial planning, optimising employer brand, advising on the employee value proposition and upskilling hiring managers.
In addition to this, with exciting developments happening in the world of talent intelligence, talent teams will be empowered to uncover:
competitors' hiring trends
better understand where candidates with certain skillsets are located
what skills they have across the business, where they're lacking and where team members can be redeployed
Once armed with these data-driven insights, HR and Talent teams can proactively lead strategic conversations with business leaders and work together to gain a competitive edge on their larger competitors.
---
The opportunity to have a real impact here is huge; the next challenge is deciding which areas should be prioritised first while making sure they align to overall business goals and objectives.
Here are three areas from experience that you as a TA leader can focus on to add value:
1. Skills gaps and future planning: this is an area where immense value can be added, especially with the adoption of talent intelligence platforms. Talent teams can work with the L&D department and robust data to understand the skills needed to future proof the business. The first step in this process is to work with the management team to present data to show which skills are missing from the workforce but also understand which skills they think are missing. Then the Talent team can speak with the Growth team to find out about the growth strategy – are there certain hires and skills that the business would need if X new client was won? By looking ahead, recruiters are not only hiring for the demand as and when it appears but are also helping to future proof the business. The final aspect where an in-house recruitment team can show real value is by considering if single points of failure exist within a certain team. Recruiters can encourage managers to reflect on this by asking who would cause a lot of stress if they resigned. Your in-house team could then build a talent pool around this or upskill other members of the team to step up to the role.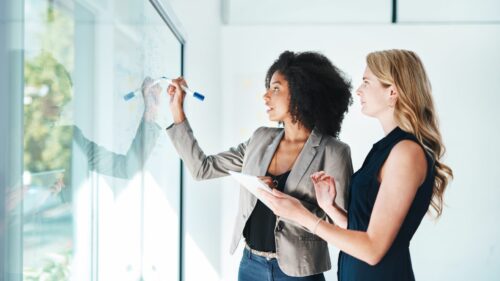 2. Employer Brand and Employee Value Proposition (EVP): Your recruitment function should be working with your marketing team to make sure that your brand and all your content is speaking to both candidates and clients. 75% of job seekers consider an employer's brand before applying for a job. Your Talent team can review messaging and imagery from the perspective of a job seeker and ensure that it gives off the correct impression of the company while also being welcoming and inclusive. When it comes to EVP, you might think this is purely HR's responsibility. This isn't the case. Talent teams can open discussion by asking questions such as, "are we appealing to everyone? How do our benefits support our workers? Have we made sure it is relevant in all countries? Do we need to think about a personalised EVP for certain roles? This is yet another area where talent intelligence platforms can provide data which Talent teams can use to affect real change and make the organisation even more attractive to prospective employees.
3. Retention: In this competitive market, retaining top talent is essential for success. One way to do this is to review behaviours and values of both long-standing and high performing employees to determine which behaviours excel and to gain a more detailed understanding of the value that these individuals see in the business. Your TA team can explore what it is about the culture and the skills that high performers have, that has resulted in their longevity. Are there specific benefits that resonate with them? For example, having an open culture where feedback and questions are welcomed or the focus on learning and development. By doing this, your Talent team will then have a thorough understanding of what attitudes, skills, behaviours and values they need to look for in new hires. When done correctly this should positively contribute to the long-term culture of the business.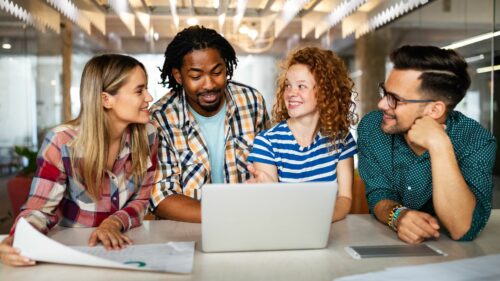 As an SME, we know that capacity and resources can be limited and often nailing your hiring is a big enough challenge on its own, however, in the competitive market that we're in right now, these areas of additional value is what will differentiate a good TA team from a world-class TA function. Recruiters spend roughly 30-40% of their time on low-value admin tasks such as scheduling interviews, writing interview notes and creating job descriptions. By taking a more strategic approach with your Talent Acquisition function and using tech and automation to free up their time, your talent team would have more time to spend on more valuable tasks such as optimising candidate experience and improving EVP.
We hope that this has given you some food for thought about how strategic Talent Acquisition can help to unlock so many areas of potential within the business. If you would like to speak with Lauren about how she has guided our partnerships through some of the areas mentioned above, feel free to