INSIGHTS
Job Seeker Resource Centre
Testimonial interview with Caroline from TopLine!
9 September, 2019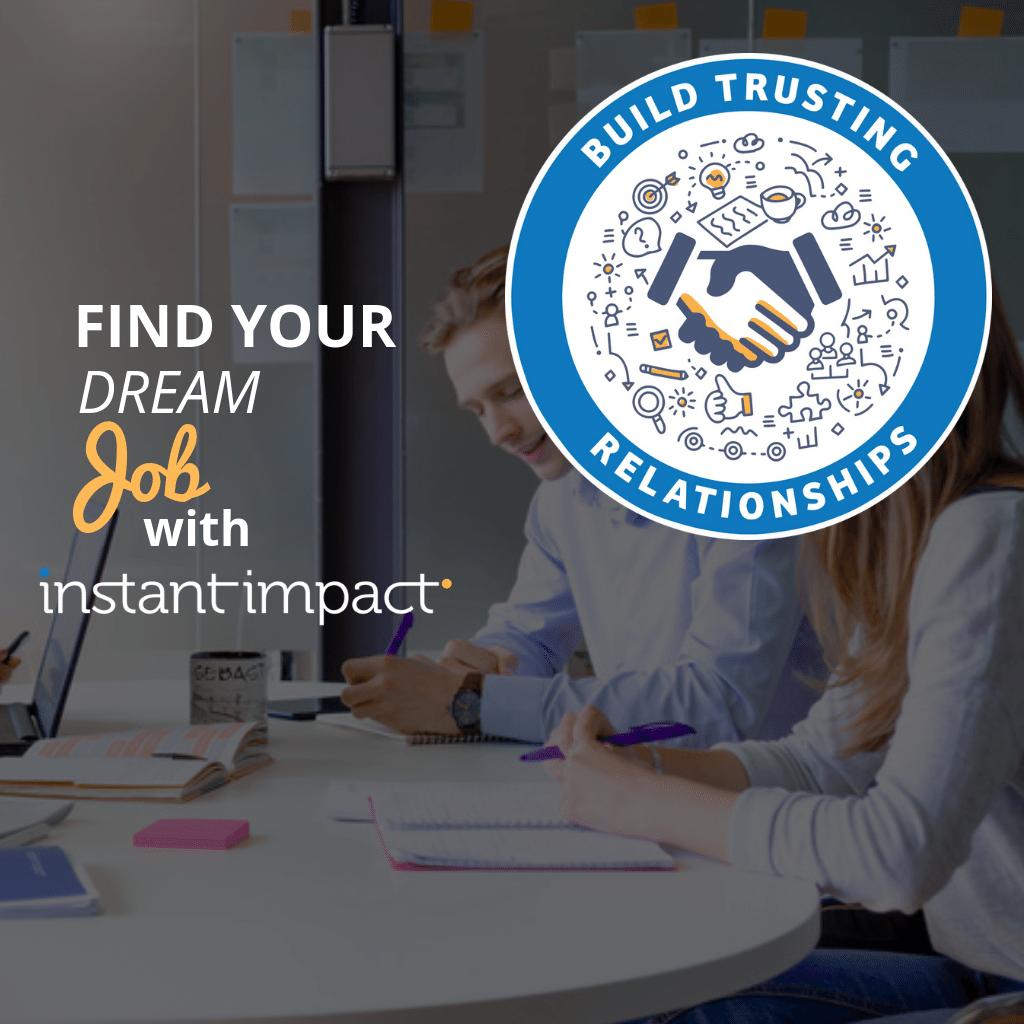 ---
One of our fabulous candidates, Caroline, who we placed at TopLine in November last year offered to take part in an interview to provide us with feedback of her experience.
Tell us about the last time you were job hunting?
I had just had my wedding and was working in PR at the time. It was the first job that I'd had in PR and it wasn't clicking. I had been in the job for a year and came to the conclusion that it wasn't for me. I decided I should focus on my main skills, those being business development and sales. I really like talking to people on the phone, building relationships with them and giving presentations. I made the decision to put my CV out there. Luckily, I had a 3-month notice period, so I had time to see what was out there.
How did you come across Instant Impact? Did we approach you?
Yes, Instant Impact contacted me first. I sent out lots of job applications and posted my CV on job boards so that must have been how they came across my CV.
Did you always plan on using a recruitment agency to aid your job search? What avenues did you explore?
Yes, it was always my plan and I was counting on agencies to get in touch with me. If there were any jobs that I came across that really interested me then I would apply directly. For the most part though I found that the most efficient way to view as many jobs as possible was by using agencies. I was focusing on Business Development roles, but it was difficult to find a job in this area without taking a large pay cut and that wasn't purely focused on sales calls.
Have you worked with any other recruitment agencies? And if so, how does Instant Impact differ from them?
I simultaneously worked with one other recruitment agency during my job hunt. Instant Impact did differ from them in a few ways. They took the time to work out what it was that I wanted from a job and really listened to my opinion. I was in quite a unique situation as there didn't seem to be much out there for someone who didn't have much experience in Business Development or Sales. Other recruitment agencies often pushed me to consider other PR roles and told me that it would be too hard to switch industries. Instant Impact however were determined to help and thanks to the strong relationships that they had with their clients they were able to explore lots of different avenues.
Another great feature of Instant Impact was that it was clear that a wider conversation was happening amongst the team. I got the impression that there was an open and friendly atmosphere in the office. The consultants that I worked with put a lot of thought into finding me a job that was the perfect fit and were happy to discuss my situation with their colleagues instead of worry about internal competition.
Did you apply to any other roles through Instant Impact besides Topline? If so, how do you think we helped you with unsuccessful applications?
Yes, over the course of a month I had a dozen different interviews at different companies. I then moved through the whole interview process with one other company but didn't get the role. After this happened Instant Impact gave me lots of useful feedback. I often never heard back from other agencies meaning I had no idea how I was doing in the process. However, the communication was great from Instant Impact and they supported me and kept in touch through every step of the process.
Is there anything we could have done differently? Could we have done more to help you with your application process?
Instant Impact invited me to come into the office to practice a presentation that I had to give as part of the application process for another company that I applied for. Having a run through with the team was extremely useful but I did already feel quite confident so on this occasion I think that doing this via Skype would have been just as valuable. Other than that, I wouldn't change anything else!
How are you enjoying working for Topline? Has the role fulfilled your expectations?
Yes definitely! It's exactly the role that I had in mind. It is also the exact working environment that I was looking for. The Instant Impact team made it an equal priority to find the perfect culture fit for me.
Finally - Would you recommend Instant Impact to a friend?
Yes definitely!
Visit www.toplinecomms.com and www.toplinefilm.com to find out more about the great company that Caroline is now working for.
---
---
BACKK TO JOB SEEKER RESOURCE CENTRE
---